Websites you can update yourself
When we build websites, they must be easy to maintain. We have the market's best and most intuitive administrative interface - if you know word processing in Word or similar, updating the website is no problem.
Work with websites always starts with an initial meeting. Here we jointly identify which tasks must be solved in connection with your website. What could it look like if it were to meet your immediate needs and could be developed in line with your wishes. At the same time, we collect impressions that enable us to design a solution that matches the company's identity. Based on the meeting, we prepare a presentation which forms the decision-making basis for the further process.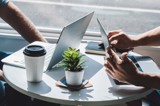 Ready for a new website?
Get a good and non-binding offer.
Get a good and non-binding offer for a new mobile-friendly and secure website that you can update yourself.
"Not on Google - you don't exist"
If your potential customers cannot find you online, then you do not exist! That's how simple it is! And when they do find your website among millions of others, you only have a few seconds to grab their attention.
Search engine optimization starts with the development of your website. Everything we do is prepared and set up for optimal search engine optimization. Examples of a poorly optimized website could be one built entirely in flash, in frames, or with menu buttons created as images, and a lack of organized headings.
We will provide our suggestions on which keywords to focus on and how to include them on your pages. Likewise, we will give you an overview and assistance in building internal and external links, optimizing images, submitting to relevant search directories, and creating meta descriptions for your pages.
We have a lot of experience with search engine optimization. However, search engine optimization alone cannot do it all. It is part of a larger strategy – it can be combined, for example, with campaigns, Google AdWords, banner advertisements, and much more. Landing pages are defined and developed. We can increase traffic to your website, but if the content is not relevant and the website is not appealing, unfortunately, it can backfire. It is also important to understand that search engine optimization is an ongoing process that needs to be maintained – and it takes time.
Web Check is an effective service inspection of your website. Together with Haug-IT, you get complete control over whether you are getting enough out of your web solution. Web Check is a free and non-binding way to have your website inspected. Together with you, we go through the solution in detail, and you get:
An honest overview of your website's performance
Ideas to improve your online conversions
Insight into how you become better at search engine optimization
Advice on better utilization of your existing solutions
Suggestions for design and usability improvements